Comfort. Energy Expenses. Safety. Value
Nashville Residential HVAC Services
Air Conditioning Repairs From The Best HVAC Company in Nashville, TN
Our Residential HVAC Repair Service provides Comfort, Energy, Safety, and Value through the use of air conditioning, heating, and HVAC units the market has to offer. We are Rheem Pro Partners serving Franklin, Spring Hill, and Nashville, TN offering the best residential HVAC maintenance and repair within the areas. For a cleaner air within the home, we also provide our clients with Flander HVAC Filters.
Selecting an air conditioner or heating system for your home is a big decision. It's an important investment today that will impact the value of your home over the years, so you will want to choose from one of Nashville's best HVAC Companies. Your residential HVAC service will play a key role in your home energy expenses for years to come. And when the summer heat is at its worst or the winter cold is keeping you indoors, you'll want your family to have the best energy efficient HVAC system.
You will also need a reliable HVAC company for your air conditioning and home heating repair along with the most reliable system possible to keep your energy expenses in check.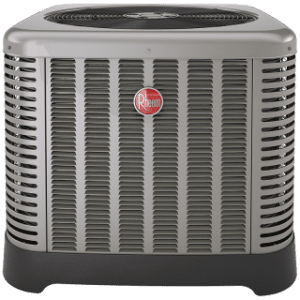 Residential HVAC Maintenance in Nashville, TN
What do the Best HVAC units have in common?
Efficiency. Effectiveness. Reliability. The best energy efficient HVAC system, operating on minimal electricity to keep your utility bills as low as possible. The best HVAC Nashville provide steady, dependable performance year after year when properly maintained. And, of course, good systems are quiet, long-lasting and low in home air conditioning and heating repair. At C&M Heating and Cooling, we select the very best HVAC solutions for your home.
How can I be sure my HVAC unit or AC unit is the right size?

Great question. We know that an air conditioner that's too small won't keep your home sufficiently heat or cool. But what you may not know is that a system that is too large for your home will turn on and off (cycle) too often, which wastes expensive energy and could create undue strain on the compressor.
At C&M, we make sure that we determine the optimum size for your home by carefully studying your heating and cooling requirements. This means taking a look at your windows – what are their dimensions and exposure. What is the overall floor space of the home? What type of insulation do you have? And how will your home do in this crazy Middle Tennessee climate. We also look at things you might not think of, such as where are your ovens and other heat-generating appliances? What direction does your home faces? We even take into account the amount of your home's exterior shaded by trees.
Energy Efficient Air Conditioners

Much like automobile manufacturers, today's air conditioner manufacturers are required by law to evaluate and rate their equipment according to its energy efficiency. This rating is known in the industry as a SEER, or Seasonal Energy Efficiency Rating. The higher the SEER, the more efficient the equipment.
Most new homes come with central heat and air and are equipped with a standard builder's model. However, when air conditioning replacement becomes necessary, property owners can upgrade their ac systems by specifying a more energy efficient HVAC system.
High SEER models are generally more expensive, but can easily make up the difference by reducing your home energy bills over the long run. To learn more, click here.
Quality of Your Air Conditioner
You want to take into consideration the quality of your air conditioning unit and the reputation of the manufacturer when you make this important purchase. You'll want to know how much noise they make – noise pollution is important for your home or office.
For air conditioners, the compressor is the heart of a condensing unit. On a hot day, it works long and hard. For example, Rheem installs the highly advanced scroll compressor in every Rheem condensing unit they produce. Scroll Compressors are recognized by the industry as the leader in reliability, efficiency and quiet operation.
For heating, the heater core and the blowers are the main components. Other features to look for include louvered steel cabinets that protect the coils from damage and expensive repair bills. For example, Rheem units have a grill design that minimizes air restriction for quieter fan operation.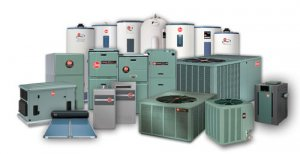 Air Conditioning Repair in Nashville, TN
What should I look for when needing an air conditioning Repair from the best HVAC Companies?
When the heat of Nashville hits, the last thing you want is an air conditioning breakdown. But if it happens, how do you ensure you're getting the best service from the top HVAC companies in the area?
Proximity: The phrase "HVAC near me" should lead you straight to a dependable local service provider. The advantage of a nearby Nashville HVAC company is twofold: their residential service contractors can reach you quickly and are familiar with the local climate and its demands on HVAC systems.
HVAC Branding and Inventory: It's not just about fixing the problem; it's about how it's fixed. Opt for a contractor who uses recognized name brands, ensuring quality and durability. Moreover, a well-stocked inventory of replacement parts is crucial. After all, enduring the peak of summer without air conditioning due to a delayed part is a situation no one wants to be in.
Reputation and Experience: A company's track record speaks volumes. C&M Heating and Cooling stands tall with years of service and a reputation that resonates with the residents of Franklin, Nashville, and Middle Tennessee. Our success stories are a testament to our commitment to excellence.
Consistent Quality: At C&M Heating and Cooling, we believe in building lasting relationships. We aim to not just win your business once but to earn your trust with every service call. Every household, every time.
Stay Informed and Prepared
Understanding your HVAC system and its maintenance needs can make a world of difference. Dive deeper into the intricacies of HVAC Maintenance & Repair with C&M and ensure your home stays comfortable year-round.